Back to staff directory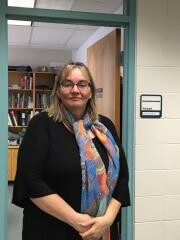 Social Studies 7/8
This is my first year being principal of Dr. Folkins Community School. Previously I was the principal of Delnorte-Innisfree September 2012 - July 2019. Prior to that I was assistant principal at Provost Public School.
I attended K-12 in Edmonton, attended the U of A then transferred to the U of Saskatchewan. I have a B.Ed with a major in Social Studies and Music, and a B.A. in Comparative Religious Studies. My extended family lives in Kenaston Saskatchewan where I spend my summers enjoying the lake and football games.
I am excited about education and working with all students at the different levels.