Back to staff directory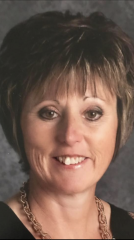 Social, PE, Grade 12 Homeroom
Hi! I am the grade 9-12 Social Studies and 7-12 Physical Education teacher at Dr. Folkins Community School. I am very excited to be returning to my classroom after one year spent as the Acting Principal. I believe it is my mission to help all students develop intellectual, physical, moral, and social skills in order to become responsible citizens.
I envision a school where:
students, teachers and parents cooperate in order to create an effective team.
all students are motivated to engage in learning in order to reach individual goals.
the environment is safe, nurturing, enthusiastic, and fun. (An Optimal Learning Environment!)
I was born and raised in Chauvin. I graduated from Dr. Folkins and have been working at DFCS for 27 years. I am married and live on a farm north of town. My oldest son is married and a teacher in Edgerton. My other son is going into grade 9. Both boys play hockey, and we spend most of the winter in arenas across Alberta and Saskatchewan. I also enjoy coaching, reading, traveling, and watching chuckwagon racing in the summer.