Back to staff directory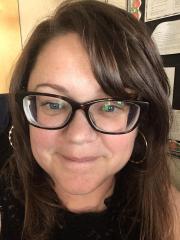 ECS and Inclusive Learning
Originally from Saskatchewan, I have spent the majority of my teaching career in Alberta with Buffalo Trail Public Schools. I started with BTPS in 1997, as a resource room/Grade 6 teacher at Wainwright Elementary School. I continued in resource and elementary classrooms in Provost and Chauvin until 2007 when I became the Early Learning Lead Teacher overseeing supports and services for early learners with Program Unit Funding (PUF) in the Department of Inclusive Learning. In 2019 I began teaching Kindergarten at Dr. Folkins Community School, where my children attend.
When I am not at work, I enjoy the mischievous adventures of my children and shuttling them to their various clubs and activities, and spending time helping out my husband on our ranch. When I have moments for myself, I enjoy reading, attending theatre/musicals, and all things chocolate!
I work Tuesdays and Thursdays in the fall and Monday, Wednesday Friday after Christmas. Please send me an email. If your questions and concerns are of an urgent nature, please contact the school directly at (780) 858-3744.